Hertfordshire corrupt policeman jailed over bogus fines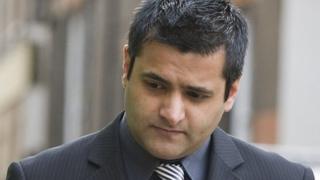 A corrupt traffic officer who illegally demanded cash from speeding motorists he pulled over has been jailed.
PC Irfan Hussain, 35, flagged down drivers across Hertfordshire last August, ordering four to pay on-the-spot fines of between £30 and £60.
At an earlier hearing at Luton Crown Court Hussain, who gave an address in Teignmouth, Devon, admitted misconduct in public office and fraud.
He also admitted perverting the course of justice, and was jailed for a year.
The court was told Hussain had been a Hertfordshire police officer for more than 10 years.
He had targeted a total of four drivers, pocketing the cash he collected from them himself, but let one go without a fine because he did not have any money.
Anti-corruption detectives launched an investigation after one of the victims made a complaint.
'Disgraceful and unforgivable'
Hussain's defence barrister said he had been suffering from mild post-traumatic stress following two work incidents that involved the deaths of young people.
He had received an award in 2011 for saving the life of a man who had attempted suicide and was bleeding badly.
Judge Richard Foster ordered Hussain to pay a victim surcharge of £100. He has resigned from the force.
Deputy Chief Constable Alison Roome-Gifford said: "There is absolutely no justification and there are no excuses.
"Clearly his actions fell disgracefully below the standard of behaviour that we expect from all our staff. It's a shocking breach of trust.
"It's appalling, disgraceful and unforgivable."