Bedford's Archimedes screw turbine power cut in swollen river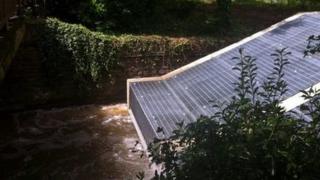 Heavy rainfall has increased the time it will take to pay back a government loan for a power-generating turbine on the River Great Ouse in Bedford.
The river's flow down an incline at the Boatslide Weir Bridge generates power using an Archimedes screw.
The £500,000 cost to Bedford Borough Council was to be paid back over 15 years by supplying the National Grid.
Swollen rivers cut river flow depleting power generation, but the council said set backs were planned for.
Power generation to the National Grid has been reduced and interrupted over the past year.
Heavy rainfall reduced power generation and the main supply cable to the grid was broken and took more than a month to repair.
The council said the turbine would create a surplus of about £32,000 every year and save 70,000 kg of carbon dioxide.
At current electricity prices the project could have broken even in about 15 years.
The setbacks in the past year mean that this could be increased to more than 20 years.
Back-up cable
Scheme critic Tony Manning, a retired physicist from Abbots Langley in Hertfordshire, said it would not operate properly if there has been too much rain.
"There needs to be a difference of about 1m between the higher flow of water and the bottom of the screw.
"If there is too much water then the lower flow will rise and there won't be enough of a fall.
"The other extreme of course is if there is a drought and not enough water in the river."
Charles Royden, in charge of environment at the borough council, said he was confident the money would be paid back to the government within the 20 years set out in the terms of the loan.
"A back-up cable has been installed to keep power supply to the grid and these weather extremes that produced the swollen river will not happen every year.
"In addition, I am sure electricity prices will increase and that will boost the money we have to pay back the loan.
"Once the loan is paid off then the council will be receiving the extra cash," he said.