Harvard name row school Havard is rebranded Everest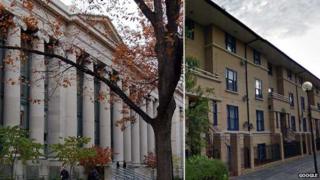 A Milton Keynes business school being sued by an American university over an alleged trademark infringement has changed its name.
Harvard University was seeking damages and an injunction against the Havard School of Management and Technology.
Havard founder Reverend Dr Tina Beloveth Powerful told the BBC she had renamed her school Everest Business School as part of an out-of-court deal.
Harvard University confirmed it had settled its case against Havard.
In September, Ashton Chantrielle, for Harvard, said the university's claim was for "infringement of Harvard University's UK and Community trademarks for the word Harvard".
Havard School, in Ascot House, North Third Street, said it offered courses in business, computing, management, accountancy and travel, tourism and hospitality, mainly for overseas students.
'Fraud investigation'
Dr Beloveth Powerful told the BBC she had named her school after her grandfather and she was counter-suing Harvard for £2m.
The Massachusetts-based university confirmed she had reached an out-of-court settlement with it, which includes renaming her college Everest Business School.
In October, the BBC discovered the UK school did not have accreditation for courses it claimed to run.
Thames Valley Police said it was no longer investigating a case against Havard and Dr Beloveth Powerful.
It has passed the case to Action Fraud, the UK's fraud and internet reporting centre, which is continuing its investigation.
Milton Keynes Trading Standards has confirmed that its investigation is also still continuing.
The home improvements company Everest has told the BBC it does not consider the new name an infringement on its copyright.