Driveway sinkhole: Conran family speaks about VW Lupo hole shock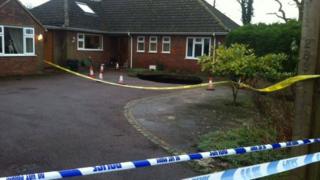 A family has told how their daughter could have been "buried alive" if she had been in her car when a 30ft (9m) sinkhole swallowed it up.
Nobody was inside the VW Lupo when the ground on Main Road in Walter's Ash, High Wycombe, gave way on Sunday.
Liz Conran, who lives in the house with her husband Phil, said the car belonged to their daughter Zoe.
"She was in absolute hysterics," she said. "It didn't dawn on us what had happened until after about an hour."
The vehicle is still at the bottom of the 15ft (4.5m) diameter hole and covered in rubble.
It is thought the hole has been caused by a mixture of mining tunnels beneath the ground and heavy rain.
'I'm quite lucky'
The car is so far down that it cannot be seen from the house.
Describing the moment Zoe Smith realised her car was missing, she said: "I went to walk out the front door and obviously my car wasn't there and I thought 'Oh my that's a bit strange'.
"So I went back inside, looked out of the window thinking someone has stolen my car.
"There was just a crater at which point I screamed the house down.
"I'm quite lucky I've got parents who are good in a crisis and said, 'It's okay, it's just a car and you weren't in it'."
Mrs Conran said she was "very worried" about their family home.
'Full of earth'
"We are expecting the house insurance people to instruct engineers to come and have a look.
"The police would not let us stay here last night so we stayed with our neighbours.
"We are not sure whether they will try and get the car out because heavy machinery on the driveway is not a good idea.
"If my daughter had been in it at the time, she would have been buried alive. We are counting ourselves very lucky this morning."
Mr Conran said: "The initial shock was very quickly overtaken by relief.
"The car is completely full of earth, it could have been horrendous."