Luton library campaigners protest against closures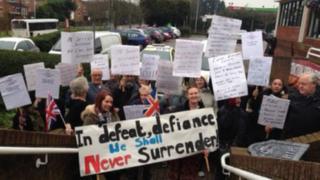 Campaigners "incensed" by the closure of two Luton libraries have held a protest in the town.
The Wigmore and Sundon Park facilities will shut on Friday after the charity which runs them lost more than £1.5m in council funding.
Luton Culture has said its money-saving measures, which include ending the mobile libraries, will save £330,000.
Protesters said they would "continue to fight" the move.
The closure decision was made in October, following a three-month council consultation about the changes.
Luton Culture, a trust which carries out work on behalf of the council, said about 4,000 people completed a user survey.
Six other libraries in the town, including the Central Library, plus the Home Library Service will remain.
'Ensure voices heard'
Campaigner Doreen Steinberg, who collected a 10,000-signature petition to keep Wigmore Library open, condemned the actions of "an unelected trust and an apathetic council".
"People are incensed," she said. "They are discriminating against the elderly, the infirm, children, the unemployed, mothers and tots and those who do not have internet at home.
"Let us ensure that the people's voices are heard, do not let them destroy this important service."
Director of libraries Narinder Bhourlay said Luton Culture recognised that for many, the closures were a "huge loss".
"We very much regret that the £1.58m cut our charity is facing has forced us to make changes to the library service," she said.
"We understand why people are upset which is why we would like to reassure residents that we will continue to work as hard as we can to increase access to library services across the town."
Ms Bhourlay said 86.6% of Luton people will still live within a mile of a library - compared to 88% at the moment - and 41% of users at the affected facilities already use other libraries.
She added that the Home Library Service would continue to supply books, audio books, music and DVDs to the elderly and those with disability/mobility problems.