Car reverses into Royston bungalow kitchen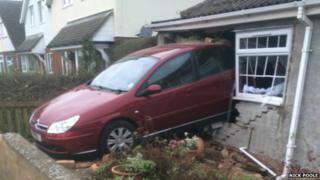 A family has been left living in half a house for five days after a neighbour reversed her car into their kitchen.
Jose and Tony Poole, of Garden Close, Royston in Hertfordshire, were on holiday in Fuerteventura at the time of the accident on Saturday afternoon.
However, son Nick was house-sitting when he heard "an enormous bang".
No-one was hurt, but the car remains embedded in the house while the family waits for the insurance company to inspect it.
Nick Poole said: "I had just left the kitchen after making a sausage sandwich when the car came crashing through the wall.
"I immediately ran outside and luckily the driver was fine, but obviously shocked."
'Holding up roof'
He described it as a "freak accident".
"I heard lots of revving and then the car must have just shot out of her driveway opposite, across the road, through my parents' brick wall and into the kitchen."
It is believed the car, an automatic, began revving uncontrollably. The woman tried to put it in park, but that meant going through reverse gear. The car then accelerated backwards.
The accident destroyed the room, which had been newly-renovated in December, as well as hitting the gas and water supplies.
Emergency services and gas engineers spent four hours making sure the area was safe.
Mr Poole then had to break the news to his parents.
Unfortunately they were unable to get home until Wednesday evening so Mr Poole lived in the house, without water or heating for four days, as he was worried about security.
The Pooles called out an engineer who told them it would not be safe to remove the car.
"It basically has to stay there, effectively holding up the roof until the insurance company's loss adjuster comes," he said.
Owner Tony Poole said he and his wife "have been dumbstruck for days after hearing that the lady had parked her car in our kitchen".
"Effectively it's half a house now, and we have spent many months renovating it all. Now we have to start again," he said.
He added although the insurance company had offered them a hotel, they did not want to leave the house until the car was removed and their home was secure.