Joseph Kent fatally punched outside KFC just feet from wife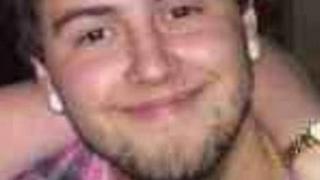 A man was fatally punched just feet from his wife during a night out to celebrate her 22nd birthday, a court has heard.
Joseph Kent, 24, died two days after receiving head injuries outside KFC at Xscape in Milton Keynes in January last year.
A jury at Luton Crown Court heard Mr Kent was punched twice by Samir Bostan. The second blow caused a fatal injury.
Mr Bostan, 25, of Wolston Meadow, Middleton, denies manslaughter.
In the early hours of 13 January, Mr Kent, his wife Emma Kent and a friend, Andrew Cruzon-Berners, were queuing at KFC, the court heard.
'Twisted into scowl'
Giving evidence, Mrs Kent said two men came out of KFC and jokingly said "don't let these guys in".
She described how she said in a joking way "what's it got to do with you?", before the man who made the remark became "quite aggressive".
She said an argument broke out, but her husband and his friends had said they did not want to fight.
The court heard she believed trouble had passed and went into KFC, but was then told by a friend "Come quick, Joe's been hit".
She added: "He was stumbling...he was looking at me."
Prosecutor Iain Wicks said the fight was instigated by Tariq Bostan, with Samir Bostan and Hamza Noor joining in.
Samir Bostan threw numerous punches, one of which killed Mr Kent, the court heard.
The court was told Mr Kent suffered a "traumatic sub-arachnoid haemorrhage".
Samir Bostan denies causing actual bodily harm to the victim's brother, Matthew Kent. Hamza Noor, 22, of Ranelagh Road, Wembley, north-west London, denies the same charge in relation to Mr Cruzon-Berners.
Tariq Bostan, 27, of Sarum Road, Luton, has admitted two counts of causing actual bodily harm to Matthew Kent and Mr Cruzon-Berners, and will be sentenced at a later date.
The trial continues.