Watford 'poor sight' hit-and-run death driver jailed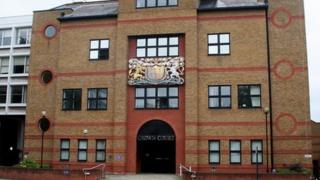 A hit-and-run driver whose eyesight was so poor he should not have been behind the wheel has been jailed for killing an 83-year-old pedestrian in Watford.
Paul Donnelly, 49, pleaded guilty at St Albans Crown Court to causing the death by dangerous driving of Donald Burnett in December 2012.
The court heard he failed an eyesight test in 2011 and was told by the DVLA that his licence had been revoked.
Donnelly, of Fox Hill, Watford, was jailed for three years and nine months.
Prosecutor Ann Evans told the court Donnelly continued to drive the BMW car he had leased from Motability since 2009, despite being told by the DVLA that his licence had been revoked.
On 1 December, he had driven into Watford town centre to collect medication and was on his way home when he failed to see Mr Burnett crossing the road.
'Driver scared'
Mr Burnett, from Harrow, was hit by the car and sent on to its windscreen. He died in hospital from his injuries later.
In a statement read to the court, Mr Burnett's niece said he had "lived a notable life which was epitomised by humanity and caring".
The court heard Donnelly drove away from the scene without stopping, but his number plate had been caught on CCTV and he was arrested.
He told officers he did not stop after the crash because he was scared.
Andrew Kerry, defending, said Donnelly was a "very, very poorly man", with a number of medical conditions.
During sentencing, Judge Stephen Gullick told Donnelly: "You should not have been driving the vehicle because of your eyesight problems.
"You caused the death of a man who was there to be seen on the road for some seconds."
He was also banned from driving for seven years and told he would have to pass a medical examination and an extended driving test if he wanted to drive again.