Cardington site homes set for approval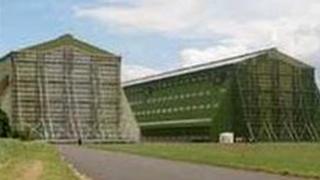 A council is set to approve nearly 500 new homes on an historic airfield in Bedfordshire in the face of opposition.
Bedford Borough Council will decide on an application for housing on the former RAF Cardington site on Monday.
The former airfield is home to two giant sheds built for airships in the 1930s and now Grade 2 listed buildings.
Residents and some conservation groups said the housing plans will affect views of the historic sheds and could stop new airship businesses setting up.
The developer, Fosbern, has already started restoring one shed which housed the historic R101 airship that crashed at Beauvais in France in 1930 on maiden flight to India.
Affordable housing reduced
A planners' report, said: "These two massive structures are currently surrounded by the relatively flat and expansive former airfield which remains largely undeveloped and laid to grass."
The report recommends allowing 167 homes south east of the sheds and 425 on the east side.
The Meteorological Office has a research station on the site and said the buildings would interfere with their wind measurements and weather reports.
Local residents objected to the development on grounds that it would have a "detrimental effect" on an historic site, damaging local heritage and could prevent further development of airship transport systems of the future.
Fosbern said it was putting about £10m into restoring Hangar No 1, which is a Grade 2 listed building "at national risk".