Rebecca Thompson's mother: 'Killer father left me to find her'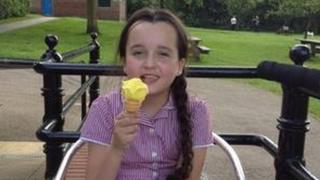 The wife of a man who strangled their 11-year-old daughter and left the body for her to find, said she has been "totally destroyed" by his actions.
Simon Thompson killed Rebecca at her home in Bushey, Herts, in June.
He admitted manslaughter on the grounds of diminished responsibility and was jailed for 20 years on Thursday.
Mary Thompson said: "Her controlling and manipulative bully of a father could not stand the thought of us moving on and being happy."
Rebecca, who was an only child, was killed on 21 June while she slept in her bed.
Separate lives
St Albans Crown Court heard 52-year-old Thompson strangled his daughter with the cord from her dressing gown, after his ex-wife had ordered him out of their home.
Describing her daughter, Mrs Thompson said: "Rebecca and I were so very close and enjoyed a wonderful relationship.
"Her father killed her in such cruel circumstances, leaving me to find her dead. This has left me totally destroyed and devastated."
The couple, who married in 1998, had been living separate lives for five years and she had begun a new relationship.
Mrs Thompson had bought her husband out of the house but he continued to live there as a lodger paying rent, although she had given him an ultimatum to leave by 1 July.
After he killed his daughter, Thompson drove his car into a roundabout in an attempt to take his own life.
'Lifetime of loneliness'
Rebecca's body was found the following day when her mother returned home.
Thompson pleaded not guilty to murder but prosecutors accepted his plea of guilty to manslaughter.
Mrs Thompson said her chance for a new life with her daughter had been taken away.
"I miss her so much, my life has become so empty without her," she said.
"Now I face a lifetime of loneliness and only memories without my darling girl.
"Like many young girls Rebecca liked fashion and music but now we will never go shopping together again or meet up with local friends for a coffee and a chat.
"I have no feeling towards my ex-husband and regard him with the contempt that he deserves."