Simon Thompson jailed for killing daughter Rebecca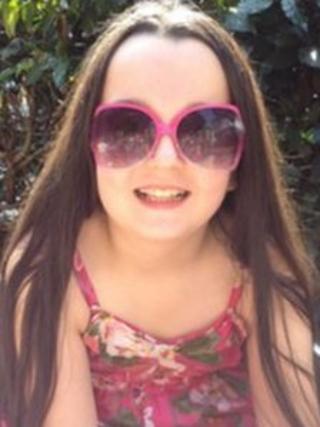 A man who killed his daughter before attempting to take his own life in a car crash has been jailed for 20 years.
Simon Thompson, 52, of Homefield Road, Bushey, strangled his 11-year-old daughter Rebecca and then drove his VW Golf into a roundabout last June.
Thompson pleaded not guilty to murder but prosecutors accepted his plea of guilty to manslaughter on the grounds of diminished responsibility.
Judge Gullick said his "breach of trust could not have been more gross".
St Albans Crown Court heard how Thompson killed his daughter after his wife had ordered him out of their home.
On 21 June, Thompson rang Rebecca's school in Hertfordshire and lied, saying his daughter was sick.
They spent the day at London Zoo, returning home in the evening.
Prosecuting, Jane Bickerstaff QC said: "Some time between 18:07 and 23:30 the defendant had taken Rebecca's dressing gown cord from her dressing gown, that was hanging on the back of the bedroom door, and strangled her to death.
"It is likely it was done in her sleep."
Thompson left in his VW Golf, the court heard, and drove into a roundabout at Elstree Hill at a speed of between 90mph and 100mph (144km/h and 160km/h).
"The car was driven in such a way that you would not have expected the driver to survive," Ms Bickerstaff said.
Thompson was taken to St Mary Hospital in London with serious injuries.
His wife Mary, who the court heard had started a new relationship, found her daughter's body on the bed the next day.
The court heard she shouted: "She's cold. She's cold. She's dead. Call an ambulance."
At the hospital, Thompson told a police officer: "I know what I have done. I don't expect any sympathy.
"I love my daughter to death."
In a statement outside court, Mrs Thompson said her daughter was a "loving and caring child who adored animals and being with people".
"I had made plans for a new life with Rebecca but we had no chance to give that a try," she said.
"The grief that fills me is hard to explain, it is like I have been forced to step out of one life into another which is full of pain, sadness and heartbreak."
Sentencing, Judge Gullick said: "Rebecca was your daughter, your only child.
"She was just 11 years old and she was entitled to expect you would care for her and protect her and would not take her life when she was asleep.
"She was tucked up in her bed in a place she regarded as her home.
"No doubt, in her mind, a very safe place indeed."
After the sentencing, Det Insp John Arthur, who led the investigation, said: "Simon Thompson has been professionally identified as a man who had psychiatric issues at the time.
"However his actions last summer were callous when he killed his daughter, his only child, leaving her mother distraught."