Bedford Hospital children A&E service returns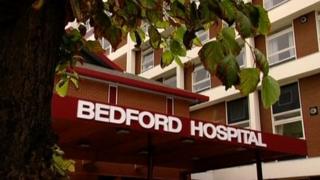 Bedford Hospital can now take emergency admissions of children again, it has been agreed.
The paediatric A&E service was one of the services suspended last year amid concerns about staff shortages.
Some services have already returned, but ambulances carrying under 19s will now be allowed to return after "careful monitoring" of safety.
It means all children's services, except long inpatient stays, have returned to the town.
Bedford Hospital NHS Trust suspended the services for under 19s from the end of July after junior doctors expressed concern about inadequate levels of supervision.
Patients have been transferred to Milton Keynes Hospital or another neighbouring hospital since 1 August.
In October, it was announced ambulances could take 16 to 19-year-olds to the hospital's A&E department, but if they needed to be admitted it would be onto an adult ward.
Also that month it was confirmed that GPs could refer children to a consultant paediatrician at the Riverbank Children's Unit for assessment and treatment between 09:00 and 23:00.
But if they needed to be admitted, they would be transferred.
The return of ambulances carrying children was approved at a meeting between health partners on Tuesday evening and Bedfordshire Clinical Commissioning Group (BCCG) approved the service's return from Thursday.
Anne Murray from the BCCG said: "The decision has been made after careful monitoring of safety and we are now confident that high quality services can be offered locally for children requiring emergency treatment.
"We will continue to monitor services to ensure that the children receive the service they deserve."
Hospital chief executive, Stephen Conroy, said the return of "virtually all" the services was due to the paediatric team, who had "redesigned and improved" services "based on best practice".
"Our focus now is to build on this progress and to continue to develop high quality and sustainable children's services," he said.
Consultant paediatrician, Dr Andy Raffles, said: "The move reflects the confidence of our commissioners that we are able to provide safe, high quality and modern paediatric services."
Under 19s will be assessed in the A&E department before being either treated and discharged or transferred to the children's unit for ongoing assessment and care.
If a child needs more than an overnight stay, they will be considered for transfer to a neighbouring paediatric unit.
The move follows December's announcement that the Riverbank Children's Unit was able to provide care for up to 23 hours a day and "open access" for children with long term conditions had also reopened.
The hospital said it had also recruited additional medical and nursing staff, improved staff training, and reviewed the training and supervision of junior doctors.