First motorway pub opens at Beaconsfield amid criticism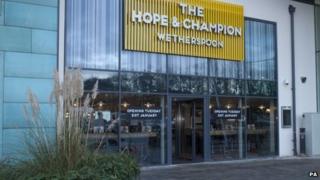 The first pub at a motorway services has opened in Buckinghamshire.
Pub developer JD Wetherspoon said its restaurant and bar began offering alcohol at junction two of the M40 at Beaconsfield on Tuesday morning.
The Hope and Champion will be open from 04:00 to 01:00 seven days a week and serving alcohol from 09:00.
But road safety charity Brake said as the pub was "putting temptation in front of drivers" it should make its drink-drive warnings "extra clear".
Prior to lodging its application, Wetherspoon met with Thames Valley Police and South Buckinghamshire District Council to outline its plans.
The company said the application received "no representations".
'Deeply concerning'
The RAC claimed a survey of 2,000 people suggested only 12% supported putting pubs into motorway service stations.
About two-thirds said they did not agree with the move, with older drivers more likely to oppose the sale of alcohol at motorway service areas.
RAC's head of external affairs Pete Williams said: "The public appear to be very much against the introduction of motorway pubs.
"In our view this is a risky and, frankly, unnecessary move."
The pub, which cost nearly £1.2m, is named after the old stagecoaches that passed through the area carrying people between London and Oxford.
Manager Steve Baldwin said: "The Hope and Champion primarily serves the motorway users, but its facilities are also available to the surrounding community."
Ellie Pearson of safety campaign group Brake, said: "The opening of a pub on a motorway is deeply concerning, and presents a potentially deadly temptation to drivers.
"It is vitally important that messages about the dangers of drink driving are as strong and clear as possible, so drivers know it's not OK to have even a single drink ahead of getting behind the wheel."