'Cagney and Lacey': Hertfordshire Police duo praised for 'light-hearted' note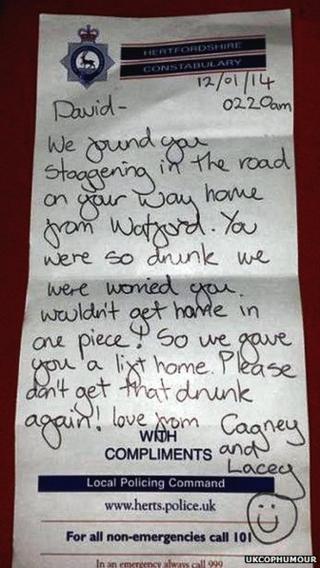 Two police officers calling themselves "Cagney and Lacey" who left a drunk man a note saying they had driven him home have been praised by a senior officer.
The unnamed officers picked up the man, known only as David, as he staggered home from Watford.
Signing the note as the 1980s TV detective duo, they advised him: "Please don't get that drunk again!"
The officers' actions showed "the human side to policing", said Ch Insp David Wheatley of Hertfordshire Police.
'Highlight the danger'
They gave the man a lift home in the early hours of Sunday.
The note to David, written at 02:20 GMT on 12 January in black ink on Hertfordshire Constabulary paper, read: "We found you staggering in the road on your way home from Watford. You were so drunk we were worried you wouldn't get home in one piece!
"So we gave you a lift home. Please don't get that drunk again! Love from Cagney and Lacey."
They named themselves after the American TV series, starring Tyne Daley and Sharon Gless, about two New York City detectives, that originally ran between 1981 and 1988.
Ch Insp Wheatley said: "This note shows the human side to policing and it is evident the officers who wrote this were attempting to highlight the danger he had put himself in, but in a light-hearted way.
"If my officers came across someone who was vulnerable and in danger, and took them home to ensure they were safe, then their actions should be applauded."