Father Joseph Williams: Hundreds attend funeral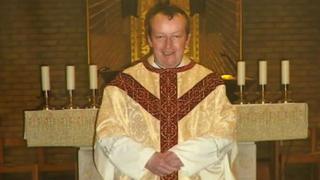 Hundreds of mourners have gathered for the funeral of a priest who was found dead in his car outside a supermarket.
The body of Father Joseph Williams, 42, was discovered in the car park of Morrisons in Houghton Regis, Bedfordshire, on 30 December.
Father Williams' funeral was held at St Martin de Porres Roman Catholic Church in Luton, where he was parish priest.
The Bishop of Northampton said the turnout showed "love and respect".
Father Williams - who was known as Father Joe - is thought to have been in the car for up to three days, but police said he was only reported missing the day before he was found.
Bishop of Northampton, the Right Reverend Peter Doyle, said: "There's an overflow in the parish hall and they have even put up a marquee so I think that's indicative of the love and respect that people have for Father Joseph."
About 40 priests from the Northampton diocese attended the funeral.
The service was held on the day Father Joe was meant to be celebrating a belated Christmas in Devon with his family.
'Lovely man'
Parishioner Norman Goodwin said: "He was a lovely man. I still think he's going to walk in and say, 'what's the fuss,' but as we know it's not going to be. The people... they loved him."
Father Williams was ordained in 2000 and had served in Burnham, Kettering, Biggleswade and Milton Keynes before moving to Luton in 2011.
It is understood his body was discovered by a member of the public.
Bedfordshire Police said a coroner's investigation will be carried out into the death and an inquest is not currently planned.