Bedfordshire PCC Olly Martins receives written warning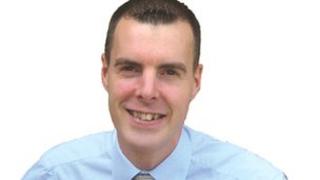 Bedfordshire's Police and Crime Commissioner (PCC) has received a written warning for disclosing "confidential information" about the death of a man held in police custody.
Leon Briggs, 39, died in hospital in November after being detained over concerns about his behaviour.
Labour PCC Olly Martins admitted passing on information about the investigation to a Home Office worker.
The police and crime panel warned Mr Martins about his future conduct.
The commissioner said he accepted the reprimand.
Father-of-two Mr Briggs, of Ashburnham Road, Luton, was arrested on 4 November following concerns raised by members of the public.
He became ill at Luton police station and was taken to Luton and Dunstable Hospital, where he died.
'Appropriate action'
An inquest into Mr Briggs' death was opened and adjourned last week, with the coroner saying he was awaiting the results of further tests following an inconclusive post-mortem examination.
An Independent Police Complaints Commission (IPCC) investigation into Mr Briggs's death is taking place and seven members of Bedfordshire force staff, including five police officers, have been suspended.
The Bedfordshire Police and Crime Panel met at Bedford Borough Council earlier.
Speaking after the hearing, Fiona Chapel, chairman of the panel, said: "[Mr Martins] was accused of, and has admitted, that he gave away confidential information which he shouldn't have done.
"We have looked at all the information that was given to us, questioned him and listened to what he had to say.
"The police and crime panel take this very seriously and we have issued a written warning and said we wouldn't tolerate misdemeanour of the same sort."
In a statement, Mr Martins said: "To my great regret I discussed, purely with a close associate, some information that had been provided to me in my role as Police and Crime Commissioner regarding the death of Leon Briggs.
"Unfortunately, the person to whom I spoke did not appreciate the sensitivity of what had been said, nor indeed completely understand it, and went on to repeat a garbled interpretation of it to a third party.
"Every effort, I believe successfully, was made to prevent any further dissemination of these comments."
The meeting was held in private and Mr Martins thanked the panel for its "appreciation of this sensitive situation".
"The very last thing that I wish to see is a frenzy of speculation surrounding my actions overshadowing the really important issue, namely how and why Leon Briggs died whilst in police custody," he said.
"I remain totally committed to ensuring that we all learn the truth and any necessary lessons learned."