Government approves Luton 'village green' bid land for building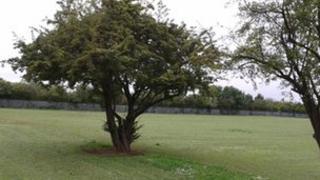 A piece of land in Luton, which campaigners had tried to protect from development, can be built on, a government inspector has ruled.
Plans for 50 homes on land behind Butely Road had been approved when residents applied for it to be given "village green" status in 2013.
But their efforts failed and the government has now said the land can now be given to developers.
The council said more homes were needed and this was the best financial option.
The plot at Ickley Close was given to the council by developers George Wimpey in the 1970s for use by residents.
Luton Borough Council agreed to give the land away for the new development, which includes 23 homes earmarked for social housing and shared ownership, in July 2012.
But people living nearby applied for it to be protected from being built on.
The council appointed an independent legal expert to consider the plan but the application was turned down last January because the land had already been acquired as an open space.
Planning approval was granted last March but the Department for Communities and Local Government has just given its approval for the council to dispose of the land at "less than the best price reasonably obtainable".
Community space
Residents say the open land is where they met for picnics and events as many of them had no garden.
Stephanie Long, who bought her house in 1985, said: "All the kids join in.... this is our only space where we can be as a community."
Labour councillor Tom Shaw, in charge of housing, said: "The housing need in Luton is so bad now.... in a perfect world we wouldn't even be looking at these sites.
"We have over 900 people living in unsuitable accommodation .... we've got people living in Watford, Enfield and Milton Keynes.
"All the people in [the 23 properties] will be coming off the council list."
He added that while "on paper" the council was giving land away, it was getting homes in exchange.
"We have saved somewhere between £6.5m and £7.5m, that's what it would cost to build that number of properties," he said.