Thomas Baird murder trial: James Carbott 'argued' with victim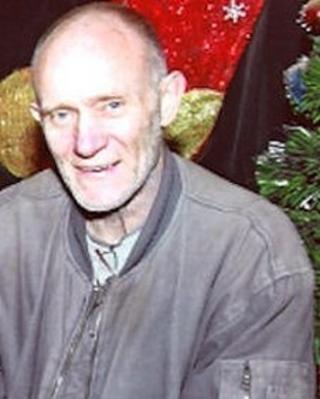 The man accused of murdering another man at his bungalow argued with the victim in the weeks beforehand, a court has heard.
The body of Thomas Baird, 63, was found by firefighters at 00:11 GMT on 2 March outside his home in Westerdale, Hemel Hempstead.
St Albans Crown Court was told Mr Baird was beaten, stabbed and set alight.
James Carbott, 31, of Epping Green, Hemel Hempstead, Hertfordshire, denies murder and arson.
The court heard Mr Carbott had been in a relationship with Mr Baird's daughter, Kelly, which had ended "acrimoniously" five months earlier.
Ms Baird said she and Mr Carbott, who had worked for her father as a builder, began a relationship two years ago which became "volatile" and at times Mr Carbott was "controlling".
The relationship ended in October 2012.
'Resolved matter'
Prosecutor Stuart Trimmer QC told the jury: "When the defendant had moved in with Kelly he had diverted the electricity, bypassing the meter.
"After he moved out Thomas Baird was anxious, on Kelly's behalf, that the defendant should correct the wiring."
Mr Trimmer said Mr Carbott had made a couple of arrangements to speak to Mr Baird in the week before the attack but cancelled both.
The prosecutor said this annoyed Mr Baird, who spoke to friends and relatives and threatened violence towards Mr Carbott and his home.
Mr Trimmer added that on 1 March, Mr Baird phoned his daughter and said he wanted to meet Mr Carbott to resolve the matter "once and for all" but she told him to leave it.
It is alleged that later that night Mr Carbott went to Mr Baird's terraced bungalow, where he murdered him, the prosecutor said.
In a statement to police, Mr Carbott said the 63-year-old had left threats to both his mother and to him on his voicemail.
When he went to the bungalow, Mr Baird appeared with a crowbar and a knife and pushed the knife towards him saying, "J have this", the statement continued.
Mr Carbott added that Mr Baird's injuries were caused by a struggle in which he disarmed the older man, he told police.
He admitted starting the fire "because he was scared".
Mr Trimmer said the prosecution did not accept Mr Carbott's account.
He said the "number, nature and ferocity of the injuries" to Mr Baird indicated this was "not a killing in reasonable self-defence".
"Thomas Baird was unlawfully killed, not in lawful self-defence," he said.
"He went to the home of the victim late at night having no lawful reason to do so, and mounted a sustained attack on him with lethal force."
The case continues.