Prince of Wales and the Duchess of Cornwall in helicopter drama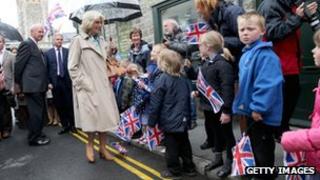 A helicopter carrying the Prince of Wales and the Duchess of Cornwall was forced to make an emergency landing in Buckinghamshire, air accident investigators have revealed.
An Air Accidents Investigation Branch (AAIB) report said the Sikorsky S-76C was passing Denham Aerodrome on its way to Wales last May when it started veering to one side.
The pilot managed to land safely.
The couple made it to their destination by car, three hours behind schedule.
Emergency declared
The royal couple and four other passengers were travelling to the Hay-on-Wye Festival on 23 May when, at 09:30 BST, the report said the 53-year-old pilot noticed the aircraft to be "out of balance".
Various attempts to correct the problem had no effect so he declared a Pan emergency, a less serious declaration than a Mayday.
On the day of the incident, a royal spokesman said that the helicopter had "diverted" to Denham due to a technical fault.
Investigators said the problem was caused by the splitting of a metal ball which caused an internal leakage of hydraulic pressure in the helicopter's yaw control system.
The AAIB report said the ball was "most likely to have fractured during the flight from London to Denham".
Tests are still being carried out but the cause of the split was likely to have been due to an "anomaly" during the manufacturing process.
'Aircraft shut down'
"The crew performed an uneventful running landing and ground-taxied to dispersal with the yaw control abnormality still apparent," the report continued.
"The aircraft was shut down and the crew and passengers vacated the aircraft."
The report said the Pedal Damper Trim Actuator (PDTA) - the part in which the ball had split - had since been replaced and the helicopter had subsequently "flown without further incident".
The AAIB said Sikorsky was in the process of issuing a safety advisory and a flight manual revision "to inform operators of the symptoms of a PDTA fault and actions to be taken by the crew".