Father Joseph Williams: Police told of missing priest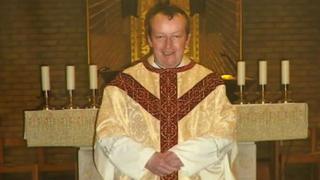 A priest found dead in his car outside a supermarket had been reported missing the previous day, police have said.
Father Joseph Williams, 42, was discovered in the car park of Morrisons in Houghton Regis, Bedfordshire, on Monday afternoon.
His body is thought to have been there for up to three days, but police said he was only reported missing on Sunday.
He is thought to have died of natural causes. A post-mortem examination is due to be carried out.
Father Williams was parish priest at St Martin de Porres Roman Catholic Church in Luton.
'Very well respected'
Writing on the Diocese of Northampton website, the Bishop of Northampton, the Right Reverend Peter Doyle, said: "It is with much sadness that I write to let you know that Father Joseph Williams died suddenly while out shopping on Friday, 27th December."
Bishop Doyle told the BBC: "He was seen locking up the church on CCTV cameras and then he didn't return for confessions on Saturday.
"It's sad for his dear mother and family, it's very sad for the parish of St Martin de Porres in Luton and it's really sad for the whole diocese."
The Dean of Luton, Monsignor Kevin McGinnell, said: "The last people who saw him in church were people who gathered with him on Friday morning, and then when he didn't come for services on the Saturday evening obviously people became very worried.
"He was very well respected. He was very quiet - perhaps reserved, shy in some ways - but people always found that he attended to their needs."
Father Williams was ordained in 2000 and had served in Burnham, Kettering, Biggleswade and Milton Keynes before moving to Luton in 2011.
It is understood his body was discovered by a member of the public.
East of England Ambulance Service attended but the priest was pronounced dead at the scene.
Morrisons said it was "supporting police with their inquiries".
The store had been open on Friday, Saturday, Sunday and Monday.
It is understood the car park is not exclusively used by Morrisons and is in use 24 hours a day.
A funeral mass will be held for Father Williams at St Martin de Porres on 16 January.