Luton Borough Council 'minimises disruption' for ITV1's Splash return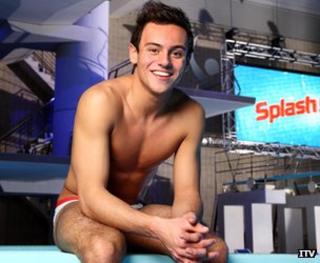 Plans to minimise disruption at Luton's community pool while it hosts ITV1's Splash! programme are in place, the council says.
The show, in which Olympic diver Tom Daley teaches celebrities the skill, starts its second series at Inspire: Luton Sports Village on Saturday.
Last year there were complaints about parking and lessons being disrupted.
Luton Borough Council said lessons have been rearranged, opening hours extended and parking stewards employed.
The £26m sports and leisure centre, which opened in August 2012, is run by Active Luton on behalf of the council, which announced in October it had agreed for the second series to be filmed there.
Parking plan
As with the first series, the main competition pool will be closed on Fridays and Saturdays but the council said Team Luton Swim Club sessions affected by the closure had been moved.
Head coach Pete Woodbridge said the swimming club was "more than happy" with the arrangements.
"Preparations were made well in advance so as not to disrupt our training programme at a vital time in the swimming season," he said.
Some diving lessons will be affected but "everything possible to minimise this" is being done with those affected being offered other days to train, the council added.
Additional leisure swimming time for the general public will also be available in the smaller community pool by extending opening hours.
Graeme Kent from Active Luton said: "There will be some inconvenience for public swimmers.... but we will have the pool back in operation from 05:00 GMT on Sunday and will open at 06:00 instead of 07:00 to put back as much water time as we can."
A car parking plan has also been agreed including the use of additional stewards and extra spaces are being made available at a nearby hotel and business centre.