Cat Bill rescued from top of Luton billboard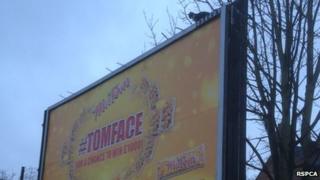 A cat had to be rescued from the top of a billboard in Luton.
The black and white male cat was spotted on the advertising hoarding in Hazelbury Crescent and was brought down to safety by firefighters.
The RSPCA has named him Bill and believes the cat, who was very cold and wet, was cowering on his lofty perch for at least two days.
A spokeswoman said they thought he got there of his own accord and they now hoped to find his owners.
Animal collection officer Kate Wright said Bill was checked over, dried off and taken to Southridge Animal Centre in Potters Bar, Hertfordshire.
He is believed to be about five months old.
"Bill is so friendly and is having lots of cuddles from the staff at our animal centre," she said.
"He must have been so relieved to be rescued as he was rubbing around my legs and crying once we got him down."
Bill's billboard was rather appropriately advertising a "Mr Tom" product.