Hitchin homeless hostel workers strike over Christmas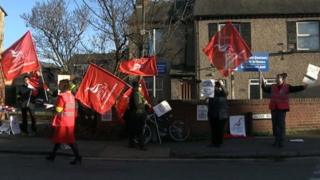 Staff at a hostel for homeless people in Hertfordshire have gone on strike for the 12 days of Christmas in a dispute over pay and conditions.
Five people from the North Herts Sanctuary in Hitchin will not go back to work until 3 January.
The hostel has been taken over by national charity St Mungo's which said it was disappointed the staff had taken this action at this time of year.
The five said the charity went back on agreements made when they transferred.
Management and other staff will keep the hostel open during the period of the strike, said the charity.
The striking project workers have already been on strike for a week in November.
They said they were paid less than staff based elsewhere in the country for doing the same job, and did not get paid sick leave.
Difficult time of year
The were supported in their action by Unite the union, whose representative said the charity was failing to keep arrangements which had already been made and budgeted for.
Mike McCall, St Mungo's executive director, said: "This industrial action relates to a service for local homeless people that we have been working to modernise from an overnight only service to a 24-hour operation.
"We have protected the pay and employment terms of five staff who transferred into us from another smaller charity and offered them a fair process to transfer on to our pay and terms.
"We are disappointed they are striking at what is a difficult time of year for residents anyway, but have been touched by the warmth of the Hitchin community who have offered support to our clients and staff during strike action.
"Our priority now is ensuring that Sanctuary residents receive the best support we can offer over the holiday and winter period."