Council backs Luton airport expansion but minister to review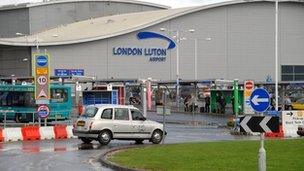 Plans to expand London Luton Airport have been backed by the borough council but Communities Secretary Eric Pickles has now asked to review the decision.
London Luton Airport Operations wants to increase capacity from 12 million to 18 million passengers a year, which could mean 45,000 extra flights.
Councillors approved the planning application at a meeting on Friday.
Campaigners against the expansion said it would bring an unacceptable increase in noise and air pollution.
The Department for Communities and Local Government will consider if the application should be determined by Mr Pickles or whether the council can issue the consent.
Andrew Lambourn, from Hertfordshire Against Luton Expansion, said noise and pollution would have "a heavy impact".
The airport is positioned in a pocket of Bedfordshire and most of the flight paths are over Hertfordshire.
"They are proposing 60% more planes and disproportionate numbers of those are going to be scheduled very late in the evening and very early in the morning.
"Let's not carry on too far and start turning this into a blighted area."
Plans for the airport, which is the UK's fifth largest, also include building a new dual carriageway from the Holiday Inn roundabout to the central terminal area.
The operator plans to expand the terminal building and build a new parallel taxiway to accommodate the increase in passengers.
Gavin Shuker, MP for Luton South, said the announcement was a "great day for the town and a much needed boost for our local economy."
Hugh Aitken, from Easyjet, who have been based at the airport since 1995, added: "This decision is an important step in helping Luton to realise its potential and enabling it to play a greater role in serving the transport needs of north London."
Luton council's impartiality has been challenged because, while London Luton Airport Ltd owns the airport infrastructure, the borough owns all its shares.
It maintains its role as the local planning authority is entirely separate from its one as shareholder.
Related Internet Links
The BBC is not responsible for the content of external sites.