'Grubby' paedophile Michael Eller jailed for directing filmed rapes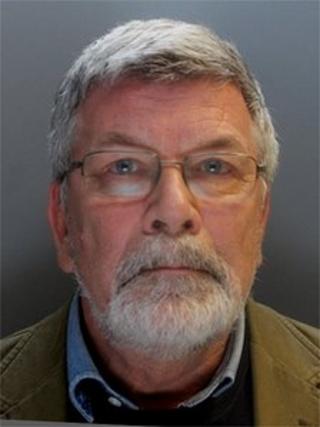 A paedophile who directed filmed rapes of young children live on the internet has been jailed for 14 years.
Michael Eller, 67, set up a Skype link from his Hertfordshire home to instruct adults in the Philippines to rape and abuse young girls.
Others paid to watch the broadcasts, St Albans Crown Court heard.
Judge John Plumstead said victims "will spend their whole lives knowing that, for the pleasure of grubby paedophiles, they have undergone abuse".
He added: "The cold-hearted cruelty of it is beyond comprehension."
Eller, of the Hilltop Estate, in Berkhamsted, pleaded guilty to five charges of arranging sex offences involving children from three years old to their early teens.
The grandfather also admitted possessing indecent photographs of a child and breaching a sexual offences prevention order.
'Overcome with disgust'
Judge Plumstead said Eller, a married man, had shown no sign of remorse and had failed to understand the gravity of his crimes.
"How any sane human being can direct the rape of children without being overcome with disgust is beyond me," said the judge.
The court heard how the retired financial director paid the adults about $30 (£18) to rape and abuse the children.
He would type out instructions on what he wanted them to do while his unsuspecting wife was elsewhere in the house.
Eller was already the subject of a sex offender prevention order following an August 2012 case where he pleaded guilty to five counts involving indecent images of children.
He had to register as a sex offender for five years.
In February, police installed software on his computer to monitor his use.
'Unspeakably vile'
Prosecutor Michael Speak said that in September, officers from the Hertfordshire Police found him using Skype to talk to a naked woman in the Philippines who was with a naked girl aged about 10 to 12 years old.
"The typed conversation indicated that the defendant was instructing the female to commit sexual offences against this young girl," he said.
Officers discovered him using the system for a similar purpose in October and he was arrested.
The prosecutor said the defendant wrongly assumed the software only monitored images saved on the hard drive and not live streaming.
Eller admitted to police he had given instructions for the abuse.
Judge Plumstead said Eller was a "serious risk to children" and said arranging the abuse for his own gratification was "unspeakably vile".
He was made the subject of a 20-year sexual offences prevention order and will be on the sex offenders' register for life.
Speaking after the case, Det Sgt Sarah Corr said the case proved monitoring of offenders worked.