Winter Wonderland Milton Keynes: Marquee equipment stolen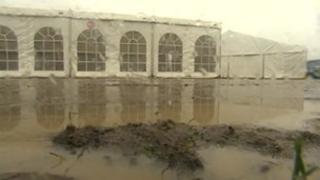 A marquee company owner is angry with the organisers of a Winter Wonderland, which was cancelled after one day, after £5,000 of equipment was stolen.
The Milton Keynes' event closed on Sunday after visitor complaints.
D&D Marquees owner Andrew Darlington claims organiser Lorenzo Franco did not tell him the event had stopped.
He said the site at Campbell Park was was not secured and marquee heaters and cabling were stolen. Mr Franco said he did not wish to comment.
Thames Valley Police said a theft had been reported just before 21:50 GMT on Sunday and was being investigated.
The attraction was cancelled after hundreds of complaints and its Facebook page was deluged by people angry at what was on offer.
It is now being investigated by trading standards.
'Promised security'
Mr Darlington, whose company is based in Northampton, said he found out the event had been cancelled when a concerned friend telephoned him.
He then phoned Mr Franco who "promised security with dogs, but it was not there".
Mr Darlington added that when he arrived at the site that night he saw a couple of vans making off with some of the equipment.
"They had vandalised inside the marquee. They had cut the electric cables," he said.
Mr Darlington, 43, then had to stand watch with the help of his 73-year-old father to prevent other equipment being taken that night.
"I've never been in this situation before," he said.
"I am feeling quite angry to have been put in this situation. I feel let down by the event organiser," he said.
Mr Darlington said he was still owed about £2,000 from Mr Franco for providing four large marquees.