Putteridge High School in Luton pulls out of academy plan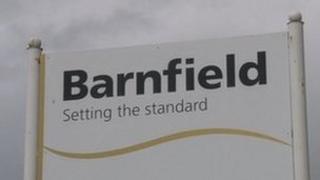 A school in Bedfordshire has decided not to become an academy because of an ongoing investigation into its prospective sponsor.
Putteridge High School in Luton was due to become Barnfield East Academy in September.
But the process was halted after complaints about financial management and governance of Barnfield Federation and Barnfield College, which it runs.
Governors said they did not want to see the school's reputation jeopardised.
The Hertfordshire-based Barnfield Federation runs four academies, a free school and a college in Bedfordshire.
'Reputation of school'
In October, the Department for Education and the Skills Funding Agency confirmed they were investigating allegations of grade massaging and "operational finances" against Barnfield Federation and Barnfield College but would not comment further.
The federation has said no report had yet been completed and none of the allegations were proven.
Bill Pollard, chair of governors at Putteridge High School, said: "Putteridge High School has been judged by Ofsted to be a good school. The head teacher and staff have worked hard to ensure that standards in all areas are high, and the governors do not want to see the good reputation of the school jeopardised."
Barnfield Federation chief executive officer Helen Mayhew said: "We're naturally very sorry that circumstances have led to the governors' decision at Putteridge. But we respect that decision and, for our part, always put the interests of students and parents before anything else."
The BBC has been told that the findings of an investigation into the federation will be published early in the new year.