Winter Wonderland Milton Keynes: Trading standards probe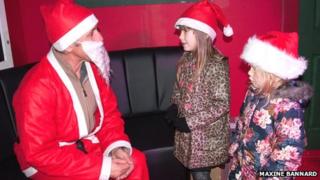 A Winter Wonderland event cancelled after hundreds of complaints is being investigated by trading standards.
The attraction in Campbell Park, Milton Keynes, closed after its Facebook page was deluged by people angry at what was on offer.
Organiser Lorenzo Franco has apologised and said he had been "putting right what was wrong".
The council said it was looking at "whether offences had taken place" and if so, would take "appropriate action".
The event, which included paid-for events such as ice skating and a circus, opened on Saturday and closed on its second day.
Customers complained Santa's Grotto was staffed by young, thin men, who looked like they were wearing "outfits from Poundland", the gifts were poor quality and an ice rink was described as "a few plastic sheets".
Gifts 'arrived late'
Milton Keynes Council said it had not provided any financial or other support to the attraction.
"We are very disappointed this event... was not the quality, family friendly spectacle usually experienced in Milton Keynes," a statement said.
Mr Franco told the BBC there had been some "technical issues" on the Saturday morning and revealed a new ice rink could not be supplied until Sunday.
He said Santa did not arrive so he put in a replacement wearing an outfit he found "sitting about in a car" and the gifts they ordered for him to give out "arrived late".
However, he has blamed parents for "not giving him a chance to put things right".
"There were unexpected events... we had rectified things by the afternoon and had put in proper measures for the Sunday," he said.
"But we were bombarded on Facebook and didn't get a chance to carry on with the events.
"I am sorry I have disappointed people but I was putting right what was wrong."
Mr Franco, a caterer by trade, claimed 200 people had already been given their money back and "every single parent will get a full refund".
He said there was "roughly £20,000" held in a secure account ready to pay back.
Calvin Smith, from Luton, said the event "absolutely spoilt" Santa for his three children.
"I'd built my whole family up for a special day and it was utter rubbish, I can't get that day back for them whatever money you were to refund me," he said.
Mr Franco has confirmed he will not be organising such an event again.