Enid Blyton commemorative plaque to go up in Beaconsfield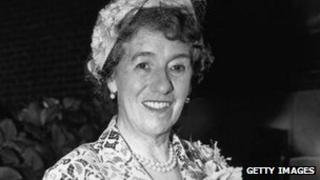 An Enid Blyton memorial is to be displayed in the town where she lived after a campaign by the Beaconsfield Society.
The author lived there for 30 years, but with few reminders, the society had called for "lasting recognition".
The town council has now commissioned a commemorative plaque, to be put up at a ceremony in the new year.
A society spokeswoman said the plaque was "long overdue in honouring our world famous children's author".
Kari Dorme said: "Enid Blyton will have been at last, properly acknowledged by and seen to be belonging to Beaconsfield."
Mayor Sandy Saunders confirmed the council had commissioned and paid for the plaque to be made and was "completely supportive".
"Enid Blyton was a tremendous character in the town," he said.
Blyton lived in the Buckinghamshire town, in a house called Green Hedges, from 1938 until her death in 1968.
The Secret Seven, Famous Five and "adventure" series were all written there.
The house was demolished in 1973 to make way for a new development, now called Blyton Close.
Nods to her presence are a replica of her house at Bekonscot, the town's model village, and a small iron plaque depicting the characters of Noddy and Big Ears.
The Beaconsfield Society, whose remit is to preserve, protect and promote the best of the town, called for a commemorative plaque over a year ago, while organising this year's events to mark the 75th anniversary of her arrival.
The memorial cost just over £300 and will be unveiled in the garden in front of the town hall.
"I thought it was pretty dire the town had nothing to honour her," said former librarian Ms Dorme.
"When you think of what they have made of Roald Dahl down the road [a museum is dedicated to the author] that's millions of pounds of business going into Great Missenden.
"We needed to recognise she was a great children's writer and has encouraged many thousands of children to read - she's a real page turner and leads you onto other things."
Ms Dorme said she also hoped last summer's events, which included an exhibition on the author's life and works, will lead to an annual Blyton event.