Asda car park death: Alan Watts 'feels sorry' for victim's family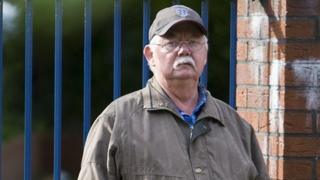 A man accused of killing another man during a row over a disabled parking space has told a court he "feels sorry" for the victim's family.
Alan Watts, 65, denies the manslaughter of Brian Holmes, 64, who died the day after he was hit twice outside Asda in Biggleswade, Bedfordshire, on 3 August.
He claims he acted in self defence when he struck Mr Holmes, causing him to fall and fracture his skull.
"I feel sorry for his family, I still do," he said.
Earlier in the trial at Luton Crown Court, the jury heard that at about 15:00 BST, the defendant, of Lindsell Crescent, Biggleswade was sitting in his Range Rover in the car park, waiting for his wife who was shopping.
He saw Mr Holmes walk up to a vehicle parked in a disabled parking bay and put a bag in the boot.
The court has heard the car belonged to Mr Holmes' wife Christine, 60, a blue badge holder, who was in the store.
Mr Watts agreed he called out sarcastically through the open passenger door window: "You look like you need a wheelchair".
'Fell backwards'
Giving evidence, he said Mr Holmes then "went into one."
"He was really swearing. He was effing and blinding, saying: 'What are you effing talking about?'," Mr Watts said.
He added that Mr Holmes approached his Range Rover, grabbed his arm and was "pulling it out of the window".
"I wanted him to get away from me... I was very concerned about what else he was going to do," he said.
The defendant said he tried to push the man away and get out, but he was still strapped in by his seat belt.
When he was able to get out, he went to push Mr Holmes "to get him further away from my car" as he was "so irate" but said the victim grabbed his right arm trapping it against his chest.
"That's when I hit him with my left fist and it connected with the right side of his face. He fell backwards," said Mr Watts.
Asked if he bore any malice towards Mr Holmes, Mr Watts replied "not at all".
He added he had "lost a son" and knew how Mr Holmes' family must feel.
Mr Holmes was flown to Addenbrooke's Hospital in Cambridge, where a care team concluded his injuries were "non-survivable", the court heard.
The following day, his life support system was turned off.
A jury retired to consider its verdict on Thursday morning.