Missenden Abbey receives German letter 62 years late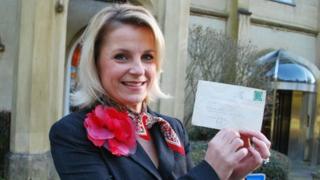 A letter sent from Germany in 1951 has arrived at a Buckinghamshire conference centre, 62 years after it was posted.
The envelope was addressed to James Dunnill at Missenden Abbey and sent by Mr D W Prengal in Flensburg-Murwik.
Research by staff revealed Mr Dunnill was the abbey's warden from 1947 to 1954. The envelope was empty.
General manager Eva Neupauer-Jones, said staff were trying to track down the sender and they would like to hear from anyone who knew Mr Dunnill.
Naval academy
Missenden Abbey, Great Missenden, is owned by Buckinghamshire New University, which runs it as a conference centre and wedding venue.
Ms Neupauer-Jones said: "The stamp on it was issued in 1951 and it looks like something out of a museum, not the usual post we receive.
"We are going to try and track down who could have sent it, as the return address in Germany is on the back of the envelope, but would also like to hear from anyone who may be related to or have known James Dunnill."
Missenden Abbey dates back to the 12th Century and was owned by Elizabeth I before her accession.
At the time the letter was posted it was an adult learning college, owned by Buckingham County Council.
Flensburg-Murwick is in Schleswig-Holstein, is Germany's northernmost town and is home to Germany's main naval academy.