Brian Holmes 'killed in parking space row' at Asda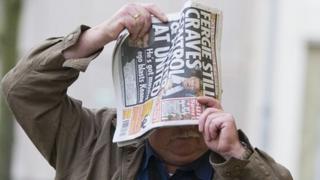 A man given the all-clear from cancer was killed "in a moment of madness" in a row over a disabled parking space, a jury has heard.
Alan Watts, 65, punched Brian Holmes twice in an argument at an Asda store in Biggleswade, Bedfordshire, on 3 August, Luton Crown Court was told.
Mr Holmes, 64, from Sandy, suffered a head injury and died the next day.
Mr Watts, of Lindsell Crescent, Biggleswade, denies a charge of manslaughter.
Ann Evans, prosecuting, said Mr Watts had criticised Mr Holmes over his wife's car, which had a blue badge displayed and was correctly parked in a bay for disabled drivers outside the shop.
She said he called out sarcastically to Mr Holmes "You don't look like you need a wheelchair" - which then prompted Mr Holmes to speak to him.
'Extraordinary violence'
The jury was shown CCTV footage of Mr Watts getting out of his Range Rover and striking Mr Holmes, causing him to fall to the ground.
"This is a case about how a moment of madness can change people's lives forever," said Ms Evans.
"The Crown says that this defendant, in a show of extraordinary violence, lashed out at Brian Holmes in the car park of Asda and killed him by punching him about the head."
While his wife Christine went into the store, Mr Holmes had gone to the car and was due to join her inside with a shopping trolley.
"That was the last time she saw him conscious and uninjured," Ms Evans said.
She told jurors the incident was witnessed by other shoppers and that afterwards Mr Watts drove off in his car, leaving Mr Holmes on the ground.
When arrested he claimed Mr Holmes had grabbed his arm and was "effing and blinding" and that he had hit him in self defence.
Ms Evans said: "Here is Mr Holmes, a man recently given the all-clear from cancer.
"Does he, like Mr Watts suggests, lose it and go up to the car effing and blinding, pulling at Mr Watts' arm?
"Or, are the facts as the crown will present them to you, of Mr Holmes going up to Mr Watts' car window, having been needlessly insulted by him and then being needlessly attacked by him."
The trial continues.