Leon Briggs custody death: Friends vow monthly vigil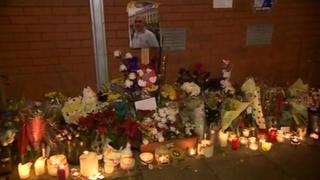 Friends of a Luton man who died after being detained by police have vowed to hold a vigil outside the police station every month until they get answers.
Leon Briggs, 38, was held under the Mental Health Act over concerns about his behaviour.
Supporters of his family, who gathered for a vigil on Wednesday, said they wanted "someone held accountable".
The Independent Police Complaints Commission (IPCC) is investigating and urged people to be patient.
Mr Briggs was restrained and detained by Bedfordshire Police at the junction of Marsh Road and Willow Way, and taken into custody at Luton police station on 4 November, but later died in hospital.
A post-mortem examination failed to find a cause of death and new tests are being carried out, police said.
Five police officers and two members of civilian staff have been suspended pending an investigation by the IPCC.
Speaking at the vigil, Mr Briggs' friend, Terry McGrath, said he had "no confidence whatsoever" in the commission.
"The only way we will get any trust in the police and the IPCC is if somebody is held accountable and charged over what has happened, we want justice," he said.
"We are keeping up the pressure, we will do this once a month on the anniversary of his death."
'Complex inquiry'
The IPCC said there was a "considerable amount of work" it still had to do.
This includes examining all police contact with Mr Briggs, the use of force or restraint, the assessment of physical and mental well-being, ongoing risk assessment and whether they complied with their duty of care.
It said over 60 witnesses had been identified and investigators were continuing to take statements and look through CCTV from local authority cameras, the police station and shops and premises near where Mr Briggs was detained.
IPCC commissioner, Mary Cunneen, said she hoped those affected by Leon's death could understand the scale of the investigation.
"I would ask people to be patient," she said.
"This is a complex inquiry but our focus remains on establishing what happened to Leon and to providing answers to his family, friends and the wider community."