Bedford Hospital: 'More' paediatric services return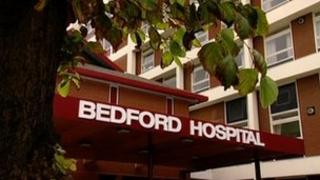 Some children's services have returned to a hospital where they were suspended over concerns about staff shortages.
Paediatric A&E services, planned surgery and overnight observation were suspended at Bedford Hospital in August.
The Riverbank Children's Unit will now be able to provide care for up to 23 hours a day and "open access" for children with long term conditions has also reopened.
Campaigners have welcomed the move.
A spokesman for the Riverbank Foundation charity said: "Slowly but surely, we're winning the battle to bring a full set of services back to Bedford Hospital."
Bedford Hospital NHS Trust suspended the services for under-19s from the end of July after junior doctors expressed concern about inadequate levels of supervision.
Patients have been transferred to Milton Keynes Hospital or another neighbouring hospital since 1 August.
Since October, the Riverbank Children's Unit has been open between 09:00 and 23:00 every day and GPs have been able to refer children to a consultant paediatrician for assessment and treatment.
'Positive step'
Hospital bosses said the Riverbank Unit would now be open 24 hours a day for short-stay assessment for referrals from GPs and via the hospital's A&E department.
They said if it was likely a child would need more than 23 hours of inpatient care he or she would be transferred to a neighbouring hospital.
Children with complex or long-term conditions would also be able to get care at Bedford instead of being offered open access care at other hospitals.
Consultant paediatrician Dr Andy Raffles said the hospital had recruited additional medical and nursing staff, improved staff training, and reviewed the training and supervision of junior doctors since July.
Acting chief executive Stephen Conroy said extending the unit's hours was "another positive step".
"We have been working hard to develop proposals to bring back our children's services in a safe and sustainable way," he said.