Bletchley Park discovers remains of two wartime huts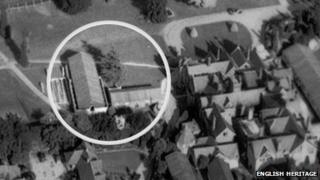 The footings of two huts at the World War Two code-breaking station Bletchley Park have been unearthed during work on its £8m restoration.
Workmen found the brick foundations while digging up the car park at the site in Buckinghamshire.
The huts, described as "glorified wooden sheds", were used for military intelligence, administration and serving refreshments.
The discovery has provided "accurate detail" of how the site was developed.
Archaeologists are now examining the remains.
Bletchley Park historian Dr Joel Greenberg said the huts were built in 1939 at the start of WW2.
They were identified through aerial photographs, interviews with veterans and cross-referencing information from books.
Their functions and numbers changed as the war unfolded, with more huts built across the site.
'Foot of Tarmac'
"One of them was a recreation hut, selling things like beer, cigarettes and cakes, and it was knocked down probably in 1950," he said.
"The other hut was larger and military intelligence work went on in there, then it was used for administration and it survived until 1987.
"The main significance is the original wooden huts were dug up - three are currently being restored - but we have never had the chance to examine the footings to what were really glorified garden sheds.
"The reason they survived is because they were buried under a foot of Tarmac."
The former car park is being grassed as part of a redevelopment, funded by an £8m Heritage Lottery Fund grant, to focus on the 55-acre estate's WWII role.
Gravel-filled trenches will be dug to represent the outline of the sheds.
Bletchley's role in cracking German codes was kept secret until the 1970s.
Its revamp should be unveiled in June 2014 to coincide with the 70th anniversary in the D-Day landings.