Catholic orphanage abuse inquiry restarts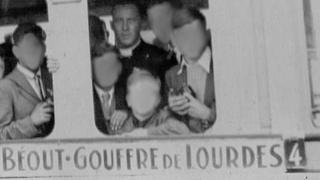 Police have restarted an investigation into claims of physical and sexual abuse at a Catholic orphanage in Bedfordshire.
In May Bedfordshire Police revealed an investigation had started into abuse allegations at the St Francis Boys Home in Shefford in the 1950s and 1960s.
But last month police said the case had been closed as officers had been unable to find anyone alive to prosecute.
Now detectives have received new information from an ex-resident.
The BBC has talked to former residents of the home who allege they were physically and/or sexually abused at the orphanage, run by the Catholic diocese of Northampton.
At the start of November, police said officers had investigated abuse allegations made by 28 ex-residents but had decided to close the case.
Police said the suspects included one priest (believed to be Father John Ryan, who ran the home in the 1960s), and four nuns, who "were found to have died", and two other suspects who could not be located.
Following the closure of the case the BBC sought more information on the investigation but this was refused on the grounds that "further evidence has come to light".
A spokeswoman later issued a statement to the BBC which said: "Bedfordshire Police have recently received a new report of abuse against former staff members from an ex-resident whilst staying at the St Francis Boys Home."
Police said they also now hoped to "identify one outstanding staff member".
Gordon McIntosh, a spokesman for ex-residents who claims he was physically abused at the home, said he was pleased the investigation had restarted.
"I hope it gets to a proper conclusion - to compile all the evidence and say something was amiss at the home," he said.
Northamptonshire Diocese of the Catholic Church, which ran the home, has said it "deeply regretted" any hurt caused, but has stressed the "claims are not proven".