Ranbir Dhaliwal : Solicitor jailed for disabled siblings fraud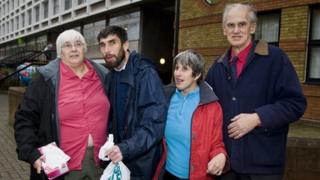 A solicitor convicted of fraud after persuading two severely disabled siblings to "sign away" the rights to their home has been jailed.
Ranbir Dhaliwal got John and Clare Bartlett to make "marks" on legal papers denying them a claim to the home if their parents defaulted on a loan.
Dhaliwal, 45, of Carnoustie Drive, Bedford, was convicted on 22 November of three counts of fraud.
He was jailed for nine months at St Albans Crown Court.
Giving evidence during his trial, Dhaliwal said his actions in January 2008 had been a "judgement call" that he now regretted.
The jury found him guilty of one charge of fraud by abuse of position and two charges of fraud by false representation.
'Hired by conmen'
Though neither could read or write, Dhaliwal managed to get Clare and John Bartlett to put "their marks" on two important legal documents.
Clare was able to write a 'C' for her name and her brother followed dots to write a 'J' for his.
The documents gave away any rights they had to stay in the family home in Wyton, Huntingdon, if their parents, 70-year-old Clifford Bartlett and his wife Elaine, 63, defaulted on a £250,000 loan and the house was repossessed.
The court heard that the finance company which had offered the loan was unaware of the siblings' disability and Dhaliwal had been hired by a pair of conmen to obtain the marks.
Those men - Gary Carr, 49, from Stotfold in Bedfordshire, and Mark Carmichael, 48, from Waltham Abbey in Essex - have already been sentenced for a £1m photocopier scam, which eventually left the Bartletts bankrupt to the tune of £1.3m.
Carr was eventually jailed for four years and eight months and Carmichael was jailed for 15 months.
A psychiatrist who saw the siblings on behalf of the prosecution told the jury it was "blindingly obvious to anyone who interacts with them" that John and Clare were severely disabled and would not have understood a word Dhaliwal said.
Judge John Plumstead said Dhaliwal's actions amounted to a "betrayal of trust" and he had "not a shred of remorse".
Dhaliwal was ordered to pay £1,000 each to John and Clare.