Hemel Hempstead traders to get roadworks compensation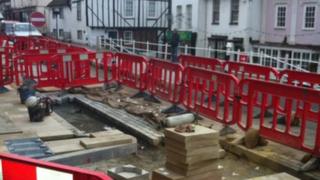 Shopkeepers affected by a delayed road scheme where workers were accused of "putting their feet up" are to be compensated after a council U-turn.
Hemel Hempstead's Old Town remains affected by the work which was supposed to be finished last month.
Some traders say they fear the overrun could drive them out of business.
Dacorum Council initially said it would not offer compensation but has now agreed to pay £106,000 to 50 businesses from "savings in this year's budget".
'It's nothing'
Fiona Rolls from F and R Fashion, who said she had not paid herself a salary for "some months", has been offered £1,000.
"It's nothing, it's immaterial in comparison to what I have lost," she said.
The £1.3m project to put a one-way system in the High Street is being run by Hertfordshire County Council on behalf of Dacorum Borough Council.
Work began in June.
CCTV cameras were installed to check on workers involved in the scheme after traders reported seeing them "with their feet up" and "walking their dogs".
Dacorum Borough Council leader Andrew Williams said: "There are issues which were beyond anybody's control and there were issues which we accept were poorly handled.
"There is no liability for compensation; the council has made this as a gesture because we obviously want to work with the traders to ensure their long-term survivability."
The work is due to be suspended by the end of Friday and resume in the new year to allow shopkeepers to take advantage of Christmas trade.
It is hoped the work will finally be completed by February or March.