Football fan arrested over anti-semitic tweets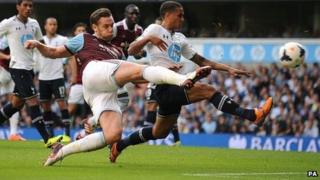 A football fan has been arrested for a series of anti-semitic tweets referring to the Holocaust and Hitler.
The man, 55, posted the comments before Tottenham Hotspur's Premier League with West Ham on 6 October, and was arrested at his home in Hemel Hempstead, Hertfordshire, on Thursday.
The man, who used the Twitter handle @pienmashgeezer, accepted a caution.
His Twitter account, which also contained entries urging violence against Muslims, has been suspended.
Police had warned fans before the fixture not to use the word "yid" and said supporters who did so could be committing a crime.
Traditionally Spurs have a sizable Jewish following and have been the target of abuse from opposition fans, although fans of the club use the term themselves.
Prime Minister David Cameron said in September that Spurs fans who chanted the word should not be prosecuted.
West Ham told supporters that anyone caught behaving in a racist, anti-semitic or homophobic way would be punished to the full extent of the law.
The fan's arrest came after Home Secretary Theresa May said on Wednesday night that concerns about anti-semitism in the UK must be addressed.