Hertfordshire County Council's £1.5m security bill is 'best for taxpayers'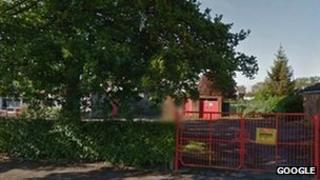 A council has defended spending more than £1.5m protecting empty properties in the past three years, saying it is "in the best interests of taxpayers".
Hertfordshire County Council (HCC) ran up the bill securing vacant property sites, including those awaiting demolition and sale.
A spokesman said it would have been "irresponsible" not to secure the sites and properties.
An opposition councillor said it was a "disgraceful" waste of money.
The single largest amount spent by the council since April 2010 was £281,482, used to guard a former college and leisure centre in Watford while it awaited demolition.
The empty Bill Everett Centre, in Leggatts Way, was earmarked for redevelopment in 2008, closed in 2009 and was last on the market in 2012.
The Conservative-run council said it held on to it in case it was needed for "future education provision". In August, it was agreed to knock it down at a cost of £116,000.
'Quite disgraceful'
A further £212,000 was used to secure Sunny Bank School in Potters Bar while it was "prepped for disposal" and nearly £83,000 spent on the Martindale School, in Hemel Hempstead, which is due to be sold on.
The council, which last December said it needed to save £110m over the next three years, said waiting until it could get the best price for a site "outweighs the short-term costs of keeping the site secure".
"On occasions, HCC has held on to property for a number of years as this is in the best interests of taxpayers," a council spokesman said.
"The cost of short-term care is minimal when compared with the long-term financial and community benefits."
But the opposition leader said taxpayers were footing the bill while councillors hesitated.
Liberal Democrat councillor Stephen Giles-Medhurst said: "In some cases, it may be right to hold on to properties and then dispose of them for development to maximise the yield for the council taxpayer.
"But to dilly-dally over making a decision about what to do with a site until years later is quite disgraceful and a waste of money when we are desperately needing to make savings across the county council."