Luton and Bedford drugs gang family jailed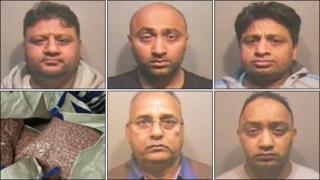 Five members of a "well-organised family crime group" have been jailed for drug and money laundering offences.
The gang, from Luton and Bedford, had links with criminal organisations in Holland and Pakistan.
More than £140,000 was seized on their arrest, Maidstone Crown Court heard.
Mohammed Habib, 39; Yasdani Ghulam, 32; Rabani Ghulam, 31, and Muhammed Samar, 53, were jailed. Mohammed Khalil, 49, has absconded but was also jailed and a warrant was issued for his arrest.
Habib, from Marlborough Road, Luton, was sentenced to 20 years for supplying class A drugs and money laundering.
His brother Khalil, of Tewkesbury Road, Elstow, Bedford, absconded while on bail. He was tried in his absence for supplying class A drugs and money laundering and jailed for 10 years.
Samar, from Karachi, Pakistan, was sentenced to 25 years for money laundering and importing and supplying class A drugs.
All three had denied the charges but were found guilty by a jury.
Habib and Khalil's nephews Yasdani Ghulam, from Kirby Drive, Luton, and Rabani Ghulam, from Beresford Road, Luton, were sentenced to seven years and six months and five years and three months respectively for money laundering.
Both had admitted the offence.
'Top of the tree'
Det Supt Kevin Conneely, head of intelligence at Bedfordshire Police, said: "They were a well-organised, family crime group and therefore very hard to tackle.
"They've caused huge harm to their own community so we're pleased to have been able to support the National Crime Agency in targeting them and getting the right outcome for local residents."
The court heard gang members were put under police surveillance and arrests were made in September 2012 after Samar had flown into the UK from Pakistan.
Officers seized more than £140,000 in cash from Samar, who was staying at Habib's address at the time.
The gang was described as "part of a much wider network" and "top of the tree" by the National Crime Agency branch commander Mike Hulett.
He added: "This criminal group was involved in the smuggling and supply of drugs over a number of years and the sentencing brings to an end a long-running investigation that has seen 23 people convicted and 285 years of prison sentences handed down."
The agency said around £900,000 linked to the gang had already been seized.