Watford Jewson crash lorry 'holding up roof' moved after six days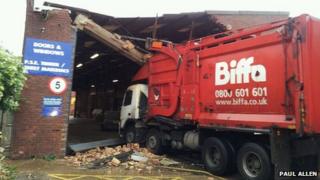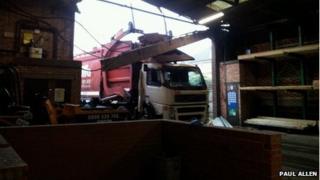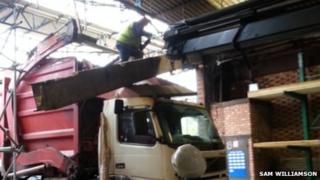 A refuse lorry which crashed into a warehouse has finally been moved after "holding the roof up" for six days.
The Biffa truck crashed into the Jewson building in Watford at about 11:15 GMT on 20 November. The driver was unhurt.
Branch manager Sam Williamson said: "A crane has moved the concrete beam which landed on the truck and we've finally waved goodbye to our lorry friend.
"There was an awful lot of crashing masonry when it was all moved, so that was a bit exciting."
No-one was in the warehouse when the lorry, which had arrived to collect waste from the site, crashed into the timber warehouse.
The impact dislodged several tonnes of masonry along with the reinforced concrete beam.
"We've had six days of disruption and dealing with surveyors and safety experts, but now the lorry has gone we can start fixing up the site," Mr Williamson said.
"The lorry was holding a lot up before, but scaffolding is doing that job now."
He said the company hoped the warehouse would be "back to normal" by the end of next week.
Biffa said it was carrying out an investigation into the crash.