'Cat pee' mystery haunts Luton's Vauxhall van plant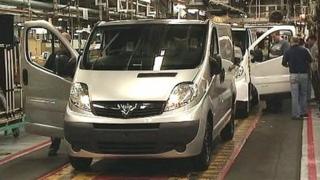 People living near a Vauxhall factory in Luton are being invited to join a four-mile "odour walk" to help find the source of a "cat pee" smell.
Since 2011, residents have complained about a smell that has forced some to shut their windows all-year round.
Plant director Mike Wright said the exact source had not been traced and hoped the walk might help identify it.
The Environment Agency said the odour was likely being produced by bacteria in stagnant paint.
The agency said it had carried out at least 23 inspections since receiving the complaints, which began in 2011.
Claire Richards, from the agency, said notices had been served on Vauxhall to eradicate the odour, which she said was coming from the "river" of excess paint produced when vehicles are sprayed.
'No joke'
She said there had been an "overall improvement" in recent months and Vauxhall was doing a lot to improve the smell by using chemical substitutes and keeping its paint shop clean, but there was "no magic cure".
Ms Richards said it was not yet known if the smell was harmless as officials had not been able to establish the exact chemical causing it.
Mr Wright said Vauxhall was doing its "utmost" to find out if the company was responsible for the smell and has invited residents to join its officials on the four-mile walk around the plant to find the cause.
He said it had spent £110,000 and brought in experts from around the world to combat odours.
He denied residents' complaints were not being taken seriously, saying: "It's not a joke to us.
"What we're trying to do is determine if the plant is at all causing the problem and we're doing our utmost to determine if there's anything coming from this facility."
Peter Layton, who works nearby, said: "In the summer months we literally had to shut all the windows and doors. Our lady staff just couldn't tolerate it.
"It became a sickly smell in the end, typical of cats' pee when it's not been cleaned up."
A date for the walk has yet to be set.
Last month it was reported a number of Dell users had complained their Latitude 6430u Ultrabooks smelt "of cat urine".
The computer manufacturer said the problem lay in the manufacturing process, which has now been changed.