Arsenal footballer Nicklas Bendtner arrested and cautioned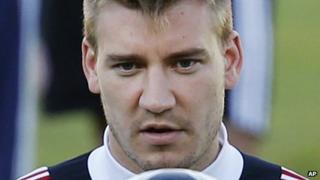 Premier League footballer Nicklas Bendtner has apologised after being cautioned for criminal damage at his apartment block in Hertfordshire.
The Arsenal striker, 25, was arrested by police on Monday over damage to the building in the Bushey area where he lives.
On his Instagram account he said he had accidentally damaged a stuck door when he tried to force it.
Mr Bendtner was given a caution by Hertfordshire Police.
Night swim
"On Saturday night after our win against Southampton I went out with my family and friends for dinner," he wrote.
"After our dinner we all wanted a night swim in my gym so we changed to shorts and brought towels down.
"As we arrived at the gym my key fob changed the colour from red (locked) to green (open) but the door remained closed.
"We thought the door was stuck so we tried to open it and it caused some damage. I apologise for any inconvenience for my neighbours and I have paid in full.
"We had no part in damaging anything else in the building. The matter is closed with the police, and my focus is on tonight's match."
The caution Mr Bendtner received means he will not have to go to court.
Lowering shorts
In a statement, Hertfordshire Police said: "A 25-year-old man from Bushey has been cautioned for criminal damage and is no longer in custody."
A spokesman for Arsenal said the club did not comment on players' private matters.
"However, we do expect the highest standards to be maintained on and off the pitch and will be reminding Nicklas of this," he added.
The Denmark international has scored 45 goals since making his debut for Arsenal in the 2005-06 season.
In June 2012, Bendtner was handed a one-match ban and fined 100,000 euros by Uefa for lowering his shorts after scoring twice in his country's European Championship defeat to Portugal.
He was found guilty of improper conduct for his reaction to his second goal in the 3-2 Group B defeat, when he exposed underwear bearing a bookmaker's logo - with the company paying the fine.
Arsenal take on Marseille in the Champions League later.