Luton Borough Council forced to reveal ITV1's Splash payment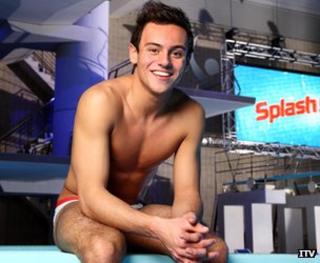 Luton Council has revealed it was paid £80,000 by a TV production company to host ITV1's Splash! at its community pool, following a BBC appeal.
It had said it could not disclose the fee for filming the diving show at Inspire: Luton Sports Village due to its contract with TV company Twofour.
A BBC Freedom of Information request was rejected but an appeal was upheld due to "public interest".
The council said it had been "very open" about the TV company's rule.
The show, in which Olympic diver Tom Daley teaches celebrities the skill, was filmed at the £26m sports and leisure centre in January and February this year.
There were complaints about parking and lessons being disrupted during the six weeks of weekend filming.
Luton Borough Council claimed the series was a success because during the transmission more than 200 people signed up to learn to dive at the pool.
But council leader Hazel Simmons said she was not allowed to reveal how much had been earned from it because of an "agreement" made with the television company.
Public disruption
Under the Freedom of Information Act, BBC Three Counties Radio asked to be told the council's total income from the show.
When this request was rejected, the BBC argued there was public interest in knowing the fee, due to the disruption the filming had caused.
An Information Commissioner case worker agreed.
As well as disclosing the fee, the council's response revealed the money had been allocated to providing three portable springboards to increase diving capacity and a new management system for booking lessons.
A council spokesman said: "We were very open from the beginning that the production company put a strict condition in the contract.
"However, to ensure we were still transparent, we said all along exactly what the money was spent on, i.e. invested back into to local sport to improve the health and wellbeing of residents."
Last month, the council said the second series of the programme would be filmed during January and February, for an undisclosed fee.