Watford Jewson warehouse crash lorry 'holding up roof'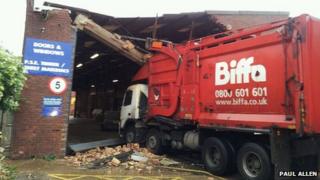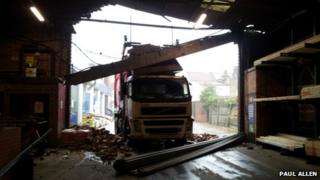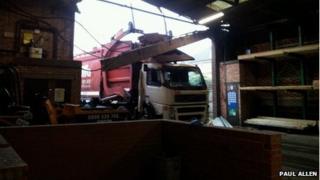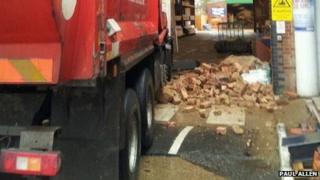 A refuse lorry which crashed into a warehouse has not been removed because it is "holding the roof up", the building's manager has said.
The Biffa truck was collecting waste from the Jewson building in Watford when it crashed at about 11:15 GMT.
Branch manager Sam Williamson said the driver, who was taken to hospital and later discharged, "had a very, very lucky escape".
Biffa said it was carrying out an investigation into the crash.
No one was in the warehouse at the time.
Mr Williamson said the crash had caused several tonnes of masonry and a reinforced concrete beam which "carries the main power supply" to come down on the lorry.
"A few more inches and it could have been through the windscreen," he said.
"We were closed briefly while a structural engineer surveyed the damage and carried out safety checks.
"The lorry's going to stay there until the beam can be removed, because frankly that's what's holding the roof up at the moment."