Boy, 16, held over Luton burglary stabbing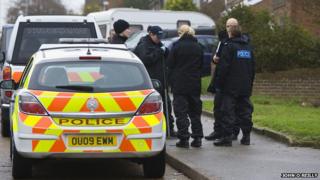 A 16-year-old boy has been arrested on suspicion of attempted murder after a man was repeatedly stabbed by masked burglars at his home in Luton.
Three men broke into Tony Abrahams' home in Wellfield Avenue at about 03:25 GMT on Saturday, as his family slept.
Police have said Mr Abrahams was trying to protect his wife and daughters. He is in a serious but stable condition.
The suspect was arrested in London and taken to Luton for questioning, police said.
Speaking after the incident, Det Con Mo Hussain said a man was "attacked and stabbed" by the offenders, who then fled the scene.
He added that the victim's wife and daughter, believed to be Catrina, 52, and Jade, 23, raised the alarm after finding Mr Abrahams injured.