Hertfordshire Police alerted to £16m heroin by lorry driver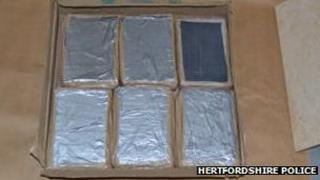 Heroin worth £16m was seized after a lorry driver became suspicious about his load.
The driver had driven out of east London but stopped his vehicle in Letchworth and called police.
Officers found 88lbs (40kg) of heroin inside the lorry - described as a "significant quantity" by police.
A spokeswoman for Hertfordshire Police said it would not comment on why the driver became suspicious, for "operational reasons".