Burglars stab Luton man in 'appalling attack'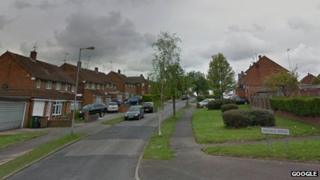 A man was stabbed several times after disturbing three burglars who had broken into his home in Luton.
Three men forced their way into the property in Wellfield Avenue about 03:25 GMT while the family slept.
Awoken by the noise the 47-year-old father went downstairs to investigate when he was attacked and stabbed.
The man, said to be in a serious but stable condition, was taken to Luton and Dunstable Hospital after the alarm was raised by his wife and daughter.
Det Con Mo Hussain from Bedfordshire Police said: "This was an appalling attack on a family man within his own home and I would urge anyone with information to come forward and speak with us.
"While the victim has suffered some very nasty injuries, he is in a stable condition and has responded very well to treatment."
Police have released descriptions of the burglars.
One was described as a black man with light skin thought to be about 20 years old and 5ft 1in tall, the second was also a black man, who was about 5ft 10ins tall, while the third was also black and thought to be about aged 20.