Ryan Burke stab death: Mark Hannell guilty of manslaughter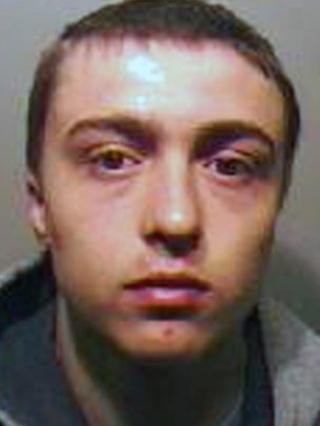 A 19-year-old man from Bedfordshire, jailed for seven years for manslaughter, was told by his own defence lawyer he needed to "grow up".
Mark Hannell was accused at Luton Crown Court of "reckless stupidity".
Hannell, of Trent Road, Luton, pleaded guilty to the manslaughter of Ryan Burke, 19, on 26 April this year.
Judge Richard Foster said Hannell was unable to accept a relationship with a girl had ended and he stabbed to death a friend of her new lover.
His not guilty plea to murder was accepted by the prosecution because he did not intend to kill.
He also admitted assaulting the ex-girlfriend's new lover Jack Wilkin.
He further pleaded guilty to harassing and assaulting a 15-year-old girl who had earlier broken off a friendship with him and he received an extra term of six months jail to run consecutively.
Sandra Beck, prosecuting said Hannell was aware his former girlfriend had formed a new relationship with Mr Wilkin, a close friend and work colleague of Mr Burke.
The two men shared a flat at Milliners Court, Biscot Road, Luton.
Single wound
On the night of the stabbing they had been out celebrating a success at work.
"They expected to be confronted by Hannell and others at their flat," Ms Beck said.
Hannell was inside the kitchen of his brother's flat, also in Milliner's Court, which had an open window beneath which Mr Burke was standing.
He lent out of the window and stabbed Ryan Burke once. "He died in the early hours of the following morning," Ms Beck said.
Jo Sidhu QC defending said Hannell had sought refuge in his brother's flat and was terrified.
"The deceased tried to get in the window and the defendant brought the knife forward. It was a single wound", he said.
The barrister said Hannell, one of 10 children had a "deeply troubled" background. "He has a lot of maturing to do."
Judge Foster said: "Your decision to go to those flats was reckless to the point of stupidity."